By:  Scott Bekker
Gavriella Schuster was named the corporate vice president for the Microsoft Worldwide Partner Group (WPG) on Thursday, putting her in charge of coordinating Microsoft's channel efforts across all customer segments and country subsidiaries. RCP editors Scott Bekker, Barb Levisay and Gladys Rama caught up with Schuster for a Q&A about her plans for the job. Here are a few excerpts, lightly edited for clarity and flow.
Now that you're officially in the job, what are your priorities for the WPG and for the Microsoft channel?
My top priority is to continue to help our partners find their best path to profitability as we move through the cloud-first, mobile-first, new economy and continue all of the work that we've been doing in helping our partners to transform and understand just how tremendous this opportunity is and what they can do within their own businesses to take advantage of it.
What's your team look like now?
Now that I have the official nod, I'm going to be working on hiring my replacement for my previous role. The rest of the team doesn't change. [Editor's Note: Schuster has been in the job on an interim basis since May.]
Does Microsoft need to expand the number or kinds of partners it works with?
Yes. So as we think of businesses like IoT [Internet of Things], that's kind of a hybrid set of partners that have traditionally done some device stuff, some data and analytics stuff, and machine learning. How do we help them and guide them to build that into a new practice? How do we take the profiles or the propensity modeling of partners that will be successful in this, or partners we see be successful in kind of decomposing what their profile looks like to say, 'Oh, other partners like you did this'?
It is about doing work with our engineering teams on what are the next set of opportunities they're building for in the market and how do we serve partners and practices that will help them to really bring those products into the market successfully.
You mentioned IoT as one of the areas where a lot of new partners might come in. Are there other big segments that you see as areas of opportunity to draw a lot of new partners to Microsoft?
Yes. When you think about Big Data and machine learning, there's a great deal of opportunity there. Then you think about the potential available through HoloLens and what that opens up to the marketplace. And then [there's] the work that we're doing in combining the Dynamics technologies into the Intelligent Cloud.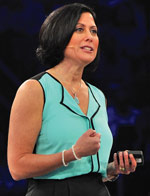 "We have so much potential, particularly when you think about Azure and all of the things that a customer can do with that platform. We don't have enough partners exploiting and taking advantage of that."
Gavriella Schuster, Corporate Vice President, Microsoft Worldwide Partner Group
As far as partner capacity goes, when you look at the partners who are doing cloud now, do you have enough?
I would say that we do not have enough. We have so much potential, particularly when you think about Azure and all of the things that a customer can do with that platform. We don't have enough partners exploiting and taking advantage of that.
We are actually doing active outreach into non-traditional communities, like the OSS [open source software] community, to bring them to explore what we have to offer through Azure and what we have to offer to build a business with Microsoft. You probably saw the information with us about the Red Hat partnership. We've engaged with their partners quite a bit, and we've had some really great opportunity discussions and engagements with them.
So we are actively looking for partners to continue to grow that platform and really exploit it, take advantage of it on behalf of our customers. I think we've barely scratched the surface.
Any other ways to think about new opportunities?
When you think about digital transformation for a customer, that gets really industry-specific. So there's an opportunity for our partners to go much deeper in industry specialization than they have before and to create some of these solutions and aggregate some of the solutions so they can create some of that repeatability of a practice. So those are some of the areas.
We actually went through a rehearsal yesterday of all of the keynotes [for the Microsoft Worldwide Partner Conference, which starts July 11 in Toronto]. I was just struck by this one chart that [Executive Vice President of the Cloud and Enterprise Group at Microsoft] Scott Guthrie had where there were all these industries listed and there were all of these different technologies listed. I was like, 'Wow, you could do this matrix where you pick one industry and you pick one of those technologies and that's a whole practice for a partner.'
Just the volume of those had my head spinning, and I thought we've really got to do the research to figure out where's the greatest opportunity so we can help direct our partners — otherwise their heads might explode with all the places they could go with their businesses.
What changes are coming on the programmatic side?
One of the things I've been focused on is making it simpler to do business with Microsoft. Not just for our partners, but for our customers. How do we really help our customers find the right technology adviser for them and for their business? The existing tools are terrible at that. You go in, and you basically get hundreds of thousands of partners. As a customer you're like, 'Ahh, I don't know how to differentiate these guys.'
I've been working on how do we actually not do that in that old-world way, but how do we actually engage the right partners and pop them in context of what a customer is actually doing. So similar to what we're doing with our own partner portal, where we know what they've looked at and have some idea of what they're looking for, that at that moment you can pop a few partners who might be in their area who are doing something similar based on the telemetry we have and the profile we have of that partner. It's proactive, it's in context, and it's not just this litany of lists. I'll be talking a lot more about this at WPC, but we've been doing a lot of work to re-imagine our whole referral engine.