By: Alan Earls
The ERP landscape seems to be changing exponentially — and almost daily. Staying up to date on these ERP trends can seem impossible for CIOs and other technology decision-makers. To help navigate the path, here are seven ERP developments to keep an eye on in 2017 and beyond.
1. More ERP choices, more ERP decisions. Early forms of ERP, such as manufacturing resource planning, were designed to tackle specific business processes; for example, HR or warehouse management, said Frank Scavo, president of Strativa, a management consulting firm based in Irvine, Calif. Starting in the mid-1990s, however, ERP systems became far more comprehensive.
"Now, with cloud solutions, the pendulum is swinging back again," Scavo said. "Rather than enhance their core ERP systems, many companies are finding it easier to add in cloud-based point solutions for things like human capital management, CRM [customer relationship management], expense management and other functions."
Scavo said that traditional ERP vendors are responding to this trend. Some are buying up specialized cloud products and integrating them with their ERP systems. Some are building out their own cloud-based specialized solutions. Many vendors are doing both. This can leave ERP customers unsure about the best path to follow.
"As always, there are tradeoffs in any decision," Scavo said. "Sticking with your existing ERP provider will probably give you better out-of-the-box integration, but the functionality might not be as good as what you can get with a best-of-breed cloud solution."
On the other hand, Scavo noted that many of the specialized application providers have excellent integration capabilities. ERP decision makers will need to consider all of their options.
2. The downside of separate systems. The "pendulum swing" toward specialized ERP applications usually comes with benefits, said Eric Kimberling, founder of Boston-based Panorama Consulting. However, he expects some organizations will make a painful discovery — not having the single source of truth that traditional ERP is meant to provide. The potential for inconsistent data and version control issues may become a source of trouble for some companies.
"The upside is that the tools have made it easier to implement best-of-breed, but the downside still exists," Kimberling said. Companies have to be aware that if they don't have the right tool set or internal sophistication, this issue could become a source of trouble.
3. SaaS vs. "DIY" SaaS. "A lot of pundits have focused on SaaS [software as a service] and how many ERP solutions were moving to that model," Kimberling said. "That's true for a small niche, but the broader trend is [that] companies [are] choosing off-premises cloud hosting of traditional solutions." In other words, companies are licensing software as they would for on-premises use, but running it in a public or private cloud.
4. Data for a competitive edge. The cloud trend has wider ramifications in terms of potentially providing even more information sources to ERP, as well as more opportunities to make use of data, according to Mark Clayman, CEO of TriCore Solutions in Norwell, Mass.
"Having powerful, cloud-based platforms allows companies to use predictive analytics and analyze business operations more closely," he said. "Companies are just now skimming the surface of what's possible when aggregating data from outside their company — pooling information from suppliers, for example — to make real-time operational adjustments." Clayman believes this will be an ongoing source of competitive advantage in 2017 and beyond.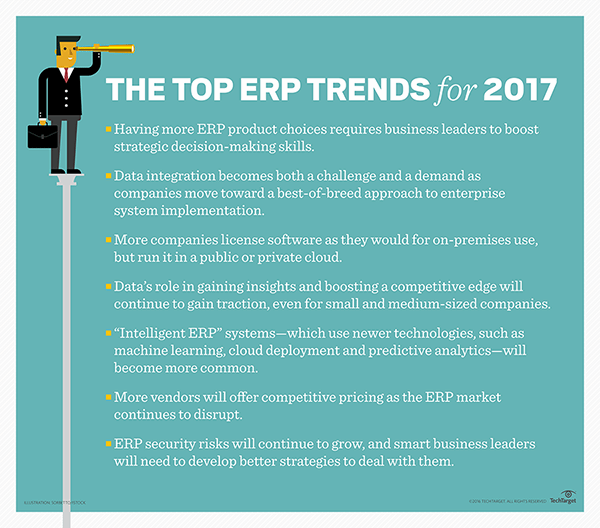 Previously, the use of sophisticated analytics was limited to bigger organizations, such as Walmart, the NFL and Under Armour, he said. But in 2017, the analytics capabilities enabled by running on cloud software will be increasingly accessible to small and, especially, medium-sized companies as they make larger investments in data analysis to effectively run their companies. Thus, Clayman predicts that, in the next year, more companies will adopt products such as SAP S/4HANA in their effort to embrace analytics and improve collaboration.
5. "Intelligent ERP." ERP trends also include systems that will give far more guidance than ERP systems of the past. In a Nov. 4 webcast, "IDC FutureScape: Worldwide Intelligent ERP 2017 Predictions," Mickey North Rizza, program VP for enterprise applications at IDC, took an even deeper look into the crystal ball. She discussed what her company calls "intelligent ERP," or i-ERP, which IDC defines as systems that use new technologies — such as machine learning, cloud deployment and predictive analytics — to manage data.
IDC has argued that digital transformation is reshaping many software applications, including marketing automation, service and support, commerce, sales, and, in particular, ERP. Rizza sees it having an impact within two or three years.
ERP vendors are being very aggressive in protecting their core offering and, as a result, pricing models are being updated to ensure they remain competitive.
Although there are hurdles to be overcome, Rizza noted that, among other things, an assistive and conversational user interface will become a primary differentiator in the selection of many ERP systems and associated applications. These interfaces and the underlying intelligence, which are predicted to appear within ERP, will be game changers.
Furthermore, the company believes that embedded intelligence will have the majority of companies depending on i-ERP for decision support. So profound will be the change that Rizza said she expects 80% of business schools to redesign their curriculum to include machine learning and cognitive technologies for "intelligent business initiatives" by 2020.
6. More competitive pricing. For customers, there's at least one silver lining to all of these ERP trends. According to Amit Patel, a managing director in the enterprise solutions business at Huron, a Chicago-based consultancy, market disruptions are putting the big vendors on the defensive. As a consequence, "ERP vendors are being very aggressive in protecting their core offering and, as a result, pricing models are being updated to ensure they remain competitive," he noted.
7. Need for better ERP security. More regulations, rising security threats and evolving technologies, including increasingly connected and sophisticated ERP platforms, have resulted in application security becoming more critical and even more complex to manage, noted Tony Torchia, partner in IT governance, risk and compliance at the professional services firm KPMG in New York City. He explained that the volume and sophistication of threats have increased exponentially, leading to a wave of data breaches on both the customer information and intellectual property fronts.
"The cost and complexity of managing the internal control environment is also on the rise," Torchia said. It's a reality he attributes in part to the highly manual and inefficient internal controls that continue to be used. Because of this risk and the trend toward more breaches, a focus on better ERP security is badly needed, he said.